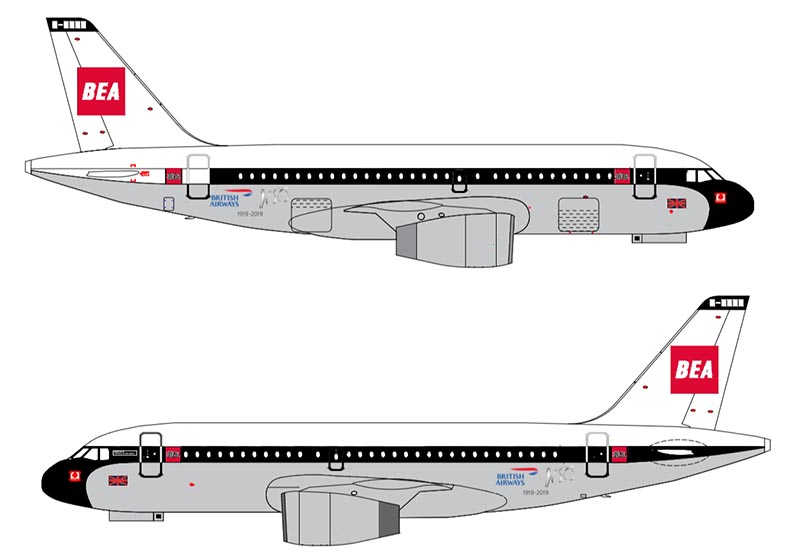 British Airways has today revealed the second design in its series of heritage liveries to mark the airline's centenary – an Airbus 319 will be painted in the colours of the airline's short-haul predecessor, British European Airways (BEA).
The announcement comes after huge crowds turned out to see the first heritage livery – a 747 in British Overseas Airways Corporation (BOAC) colours – touch down at Heathrow on Monday, with more arriving at the airport the following day to see it depart on its first flight to New York.
The A319, reg G-EUPJ, will enter the IAC paint bay at Shannon Airport this weekend where it will be repainted with the BEA livery which flew predominantly on domestic and European routes between 1959 and 1968. However, there will be a significant difference with the replica; the aircraft will have a grey upper wing, rather than the traditional red, to meet current wing paint reflectivity requirements.
It will return to Heathrow and enter service next month flying across the UK and Europe, with the design remaining on the aircraft until it retires next year.
In its centenary year British Airways is hosting a range of activities and events. As well as looking back, the airline is also hosting BA 2119 – a programme, which will lead the debate on the future of flying and explore the future of sustainable aviation fuels, the aviation careers of the future and the customer experience of the future.