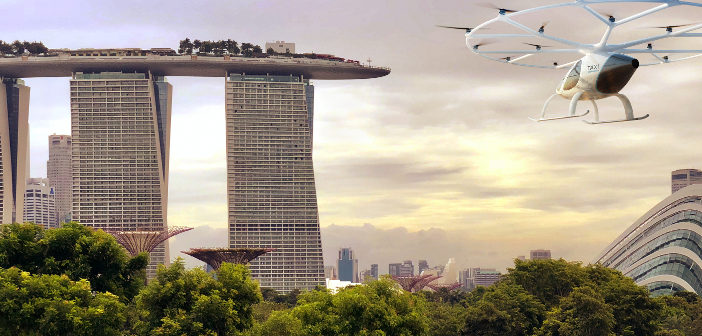 Volocopter plans to start urban flight testing of its electric vertical take-off and landing air taxi in Singapore between January and July 2019. According to the German company, its electrically-powered 2X aircraft can fly two people up to 27km (17 miles) on a single charge with a cruise speed of 70km/h (43mph).
It has been designed to remain stable in urban areas, despite the micro turbulences that may occur around tall buildings. The company also claims the aircraft is so quiet it cannot be heard over the "typical background noise of a city".
The 2X, which can piloted or remotely controlled, performed an unmanned test flight in Dubai in September 2017. The flight tests in Singapore are designed to validate and verify operation in an urban environment and will culminate in a series of public demonstration flights.
AIRLIVE TV
Volocopter and the Civil Aviation Authority of Singapore (CAAS) are working together to establish the scope of the flight trials and ensure that the necessary safety requirements are met before flight tests commence. The company also plans to set up a product design and engineering team in Singapore.