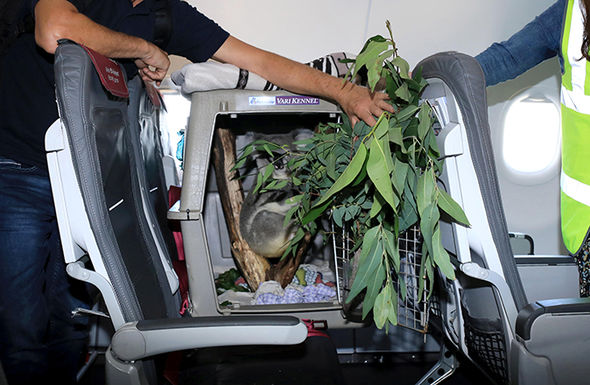 Tanami was travelling 700 miles from Duisburg Zoo in Dusseldorf, Germany to Scotland to join Edinburgh Zoo.
The koala, a 19-month-old Queensland koala, is named Tanami. He was flying with low-cost airline Eurowings and managed to nab an entire row of seats to himself.
He was even treated to a big bag of eucalyptus so he could snack on his favourite food throughout the flight.
The koala needed the entire row to himself as the creatures are a sensitive breed and can be highly strung.
AIRLIVE TV
Tanami is trading places with Toorie, Edinburgh Zoo's young male koala, who will be making the return flight to Duisburg Zoo next week.
Gordon Dewar, Chief Executive of Edinburgh Airport, said: "We welcome passengers from all over the world to Edinburgh Airport but not all of them are as special or as cute as a koala!
"It was quite exciting to have Tanami arriving here and he joins a list of famous animals who have touched down here to make Edinburgh Zoo their new home."
Koala numbers are in decline throughout the Eastern coast of Australia where they naturally occur.
The eucalyptus forests that koalas depend upon for survival are disappearing to make way for roads and housing.
When koalas move from one tree to another on the ground, they are very vulnerable to predators, including wild and domestic dogs, and many are hit by cars.