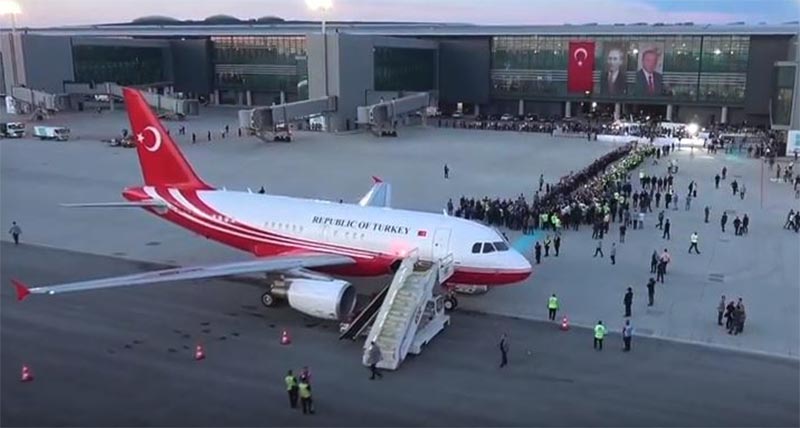 President Recep Tayyip Erdogan's aircraft on Thursday made the first ever landing at Istanbul's new colossal airport, which is expected to formally open to air traffic on Oct. 29.
The Turkish presidential aircraft TC-ANK took off after Erdogan's election rally in Gaziantep to make its historic landing on the 3,750-meter-long and 60-meter-wide runway.
The Istanbul's new airport will be one of three biggest airports in world with annual capacity of 90 million passenger in first phase, he said, adding the airport would be a brand for the country.
The third airport in the city — 90 percent of which is already completed — will be the world's biggest project built from scratch upon completion.
AIRLIVE TV
In the first phase, the airport will welcome 90 million passengers annually. In the second phase, which is expected to be completed in 2023, it is projected that the number would rise to 150-250 million.
After the completion of the first phase, which is to take 42-month non-stop work, the airport will have the capacity of 3,500 takeoffs and landings per day. It will also include a 100,000 square meter residential area as well as a mega car park with the capacity of 25,000 vehicles, 42-kilometer long (26 miles) baggage handling system and 143 indoor bridges for passengers.
The airport would also serve with a 5.5 million tons of cargo capacity. The airport will be equipped with modern security system as it will be surrounded by a 62-kilometer security cordon.