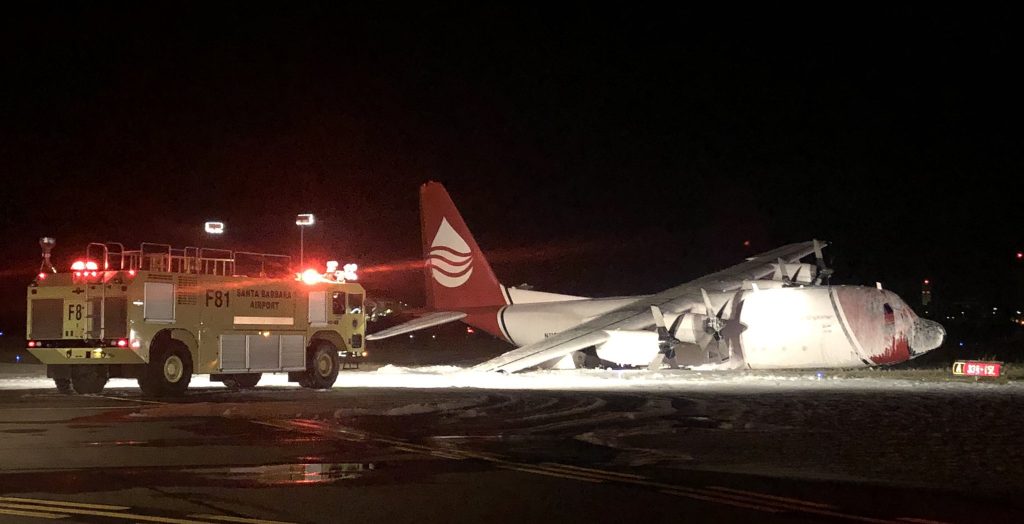 A C-130 aircraft that developed problems shortly after takeoff crash-landed late Sunday night while attempting to make an emergency landing at the Santa Barbara Airport.
The incident occurred at about 10:20 p.m. on the airport's main runway, with the aircraft coming in from the west, according to Fire Department.
The plane belonging to a private contractor caught on fire after hitting the ground, and part of a wing broke off.
#AircraftEmergency– A Private C-130 aircraft made an emergency landing, crashed and caught fire at the Santa Barbara Airport at 10:13 p.m. Sunday. 7 souls aboard/escaped w no injuries. **ALL MEDIA CALL SBAirport PIO At 805-319-1400** pic.twitter.com/ptJJbeUM2q

— SBCFireInfo (@EliasonMike) August 26, 2019
Firefighters doused the plane with foam to knock down the flames.
AIRLIVE TV
Seven people were on board the aircraft, which had taken off from the Santa Maria Public Airport, but there were no injuries.
Shortly after the plane became airborne, the crew detected a problem, but were unable to return to the airfield due to fog.
The Santa Barbara Airport was shut down following the crash.