Ethiopian Airlines flight #ET302 from Addis Ababa to Nairobi has crashed.
Still very few details available on the accident but Ethiopian Airlines Boeing 737 MAX 8 (reg. ET-AVJ) was involved in a fatal accident.
Please reload the page for updates…
UPDATE 12 Ethiopia cannot read black boxes from Boeing 737 MAX 8 which crashed, they will be sent to Europe.
UPDATE 11 Ethiopian Airlines has confirmed both the Digital Flight Data Recorder and Cockpit Voice Recover of the Boeing 737 MAX 8 which crashed yesterday have been recovered.

UPDATE 10 Nationalities of passengers on board #ET302.

UPDATE 9 The pilot of #ET302 reported difficulties with the aircraft to ATC.
UPDATE 8 First picture released from Ethiopian Airlines Boeing 737 MAX 8 crash site.

UPDATE 7 Everyone on board Ethiopian Airlines jet died in crash, spokesman says – victims were from 33 nationalities.
UPDATE 6 At this time, search and rescue operations are in progress. Still no confirmed information about survivors or any possible casualties.
UPDATE 5 Contact was lost only 6 minutes after takeoff from Addis Ababa.
UPDATE 4 The Ethiopian Airlines Boeing 737 MAX 8 was less than 5 months old.
UPDATE 3 149 passengers and 8 crew were on board.
UPDATE 2 Deaths are reported by Ethiopian Prime Minister
UPDATE 1 The aircraft took off from Addis Ababa at 05.30 UTC to Nairobi.
Airline statement:
AIRLIVE TV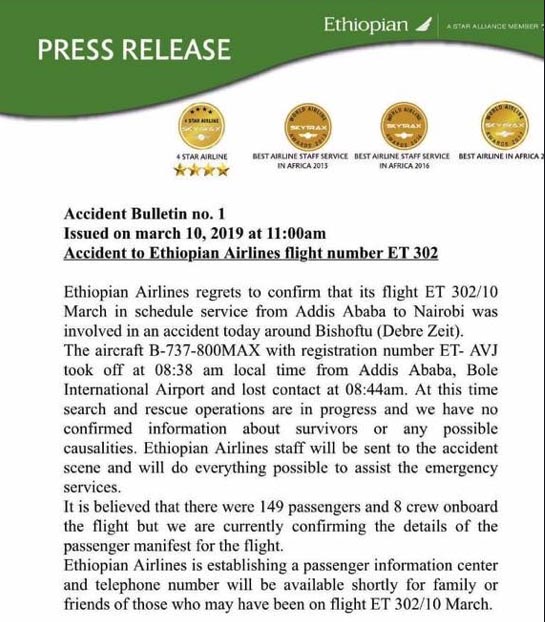 In a statement, Prime Minister of Ethiopia said:
On behalf of the Government and people of Ethiopia, would like to express it's deepest condolences to the families of those that have lost their loved ones on Ethiopian Airlines Boeing 737 on regular scheduled flight to Nairobi, Kenya this morning.
Boeing statement
Boeing is deeply saddened to learn of the passing of the passengers and crew on Ethiopian Airlines Flight 302, a 737 MAX 8 airplane. We extend our heartfelt sympathies to the families and loved ones of the passengers and crew on board and stand ready to support the Ethiopian Airlines team. A Boeing technical team will be travelling to the crash site to provide technical assistance under the direction of the Ethiopia Accident Investigation Bureau and U.S. National Transportation Safety Board.