A Papua New Guinean plane has sunk in a lagoon in the Federated States of Micronesia.
UPDATE Air Niugini has confirmed that divers found the body of the missing passenger in the Boeing 737-800 which crashed at Chuuk last Friday.
UPDATE According to first reports, the Boeing 737-800 was too low and landed in the lagoon before the runway.
Locals reported broken bones are among the passenger injuries after the flight came in "very low" for its landing, and ended up in the water.
The Boeing 737 aircraft hit the lagoon surrounding the small island about 9.30am local time (2330 GMT Thursday). The passengers and crew were taken to hospital but no serious injuries were reported.
Various reports said there had been up to 57 people on board, including 11 crew and either 36 or 46 passengers.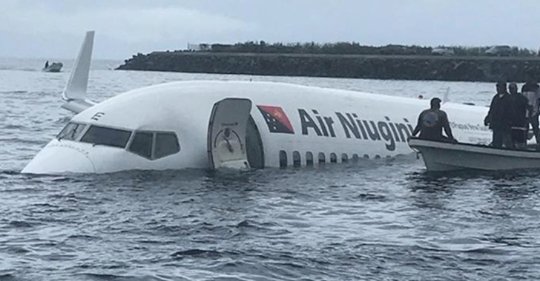 Air Niugini said in a statement the airline is "making all efforts" to look after the passengers and crew.
A spokesman for Papua New Guinea's Accident Investigation Commission said investigators would fly to the scene as soon as possible to piece together what happened.
Air Niugini flight #PX73 was from flying from Tokyo-Narita airport in Japan to Port Moresby in Papua New Guinea via Chuuk in the Federated States of Micronesia.