A Longtail Aviation Boeing 747-400F diverted to Liege after one of the engine's caught fire, sending out a loud bang.
The aircraft was operating flight LGT5504 from Maastricht Aachen Airport to New York. The aircraft departed from Maastricht at 4:11 pm.
After its engine caught fire and lost pieces of turbine blades shortly after departure, the aircraft entered into a holding pattern at 10,000 feet and diverted to Liege Airport.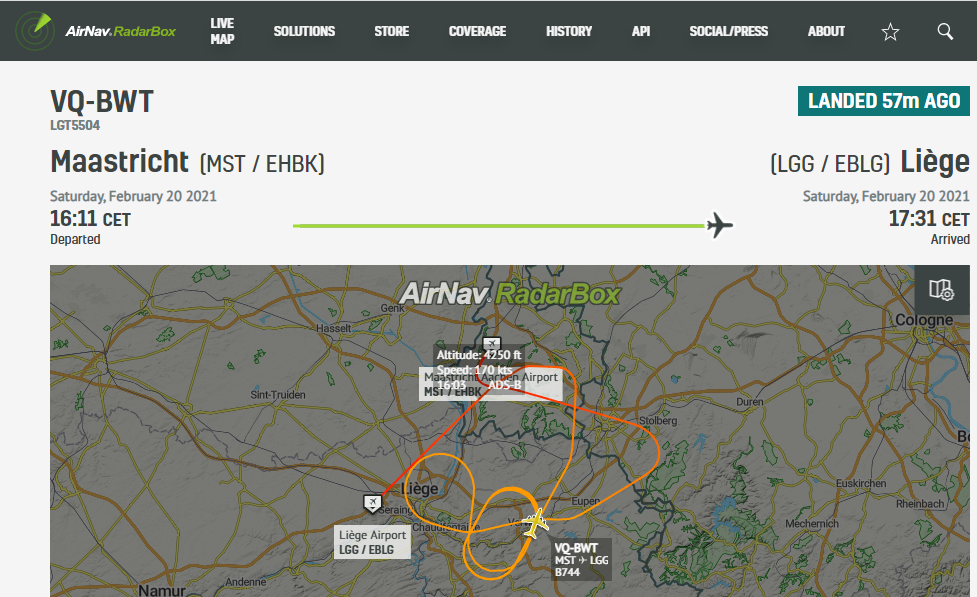 The pieces of turbine blades fell in the vicinity of Meerssen, and multiple parked cars were damaged. No injuries have been reported as of now.
AIRLIVE TV
The Boeing 747-400F, with registration VQ-BWT, was delivered to Longtail Aviation back in November 2020, having previously operated for multiple airlines, including Air India and Singapore Airlines.
The aircraft was initially delivered to Singapore Airlines as a passenger aircraft in February 1991 and is currently 30.1 years old.
Longtail Aviation'a ait #Boeing 747 kargo uçağı, Hollanda'daki Maastricht Havaalanı'ndan havalandıktan sonra motor arızası yaşadı. Uçak Meerssen üzerindeyken motorunun parçaları kopmaya başladı. Uçak Liege'e güvenli bir şekilde indi. Uçaktan düşen parçalar araçlara zarar verdi. pic.twitter.com/7pNBUMtBWq

— Meraklı Havacı ✈️ (@meraklihavaci) February 20, 2021
Feature Image: "Jesse Vervoort via JetPhotos"