A Sukhoi Superjet 100 landed in fire at at Moscow's Sheremetyevo Airport.
Flight #SU1492 to Murmansk declared a radio failure shortly after departure from Moscow and then a general emergency.
Please reload for updates…
UPDATE 7 Wreckage of Aeroflot Superjet 100 has been removed today at Moscow Sheremetyevo Airport.

UPDATE 6 According to Russian media citing investigators 41 people died during the fire of the Aeroflot Superjet 100 flight #SU1492. 78 people on board.
UPDATE 5 First report says the Superjet 100 suffered electric failure and loss of comms due to a lightning strike soon after takeoff. The main landing gear collapsed on third touchdown after two bounces, fire broke out afterwards as engine(s) touched the runway.
https://youtu.be/HG3_clcQIFI
UPDATE 4 Moscow Sheremetyevo Airport operations are reduced due to accident. 1 of 2 runways are in use.
UPDATE 3 The rear of the aircraft was completely destroyed by the fire.

UPDATE 2 Passengers evacuating Aeroflot #SU1492 Superjet 100 at Moscow's Sheremetyevo Airport.
https://youtu.be/9yqhyg-t2iU
UPDATE 1 78 passengers were on board.
The Superjet 100 (reg. RA89098) landed back in Moscow 26 minutes after take off.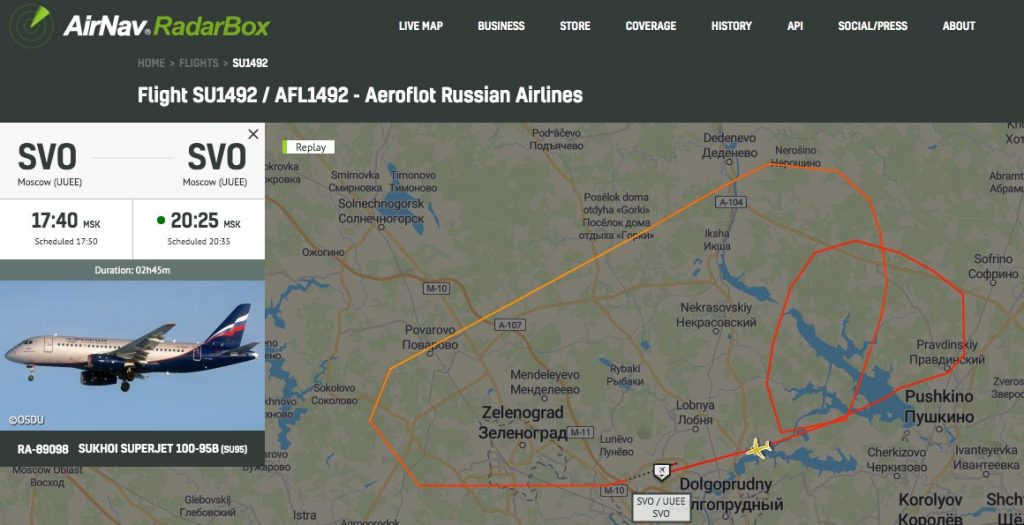 The passengers evacuated the aircraft through slides on the forward doors.