Each evening, pilots of the Airbus A350 have to choose which route to take.
If the pandemic was not enough, Finnair has lost access to Russia's airspace. Since the start of the Ukraine war and the closure of Russian airspace to European carriers, this flight, which used to fly over Siberia and take 9 hours on average, now takes 12.5 to 13 hours instead.
Russian airspace, which previously offered the most direct path from Helsinki to Tokyo, has been closed to European carriers. Finnair stopped its Tokyo flight for several weeks but the Helsinki-Tokyo route had to resume.
The Tokyo route remains an important route for Finnair, and with Japan having finally reopened to visitors there's even more incentive to operate the flight despite the new challenges, even though it now takes hours longer and requires a wildly different route – right across the top of the globe.
AIRLIVE TV
Daily flight #AY61 to Tokyo Haneda is operated by an Airbus A350 from Helsinki.
So each afternoon, the #AY61 crew have to decide which of North Pole or Asia route their A350 should take.
Depending on jet streams, #AY61 either fly over the North Pole or goes more South over Poland, then turn left over Romania to avoid Ukrainian airspace then fly East toward China.
There's even a reporting/waypoint there called NOPOL.
Why do some planes fly across the Arctic or the North Pole on their route instead of flying straight towards their destination?
Because that route across the Arctic or the North Pole is actually the most direct route towards their destination. Even if on a map it doesn't look like it.
What is the most direct route from Los Angeles to Dubai? On a map it might appear as if it were straight east, but that's not true. It's this route: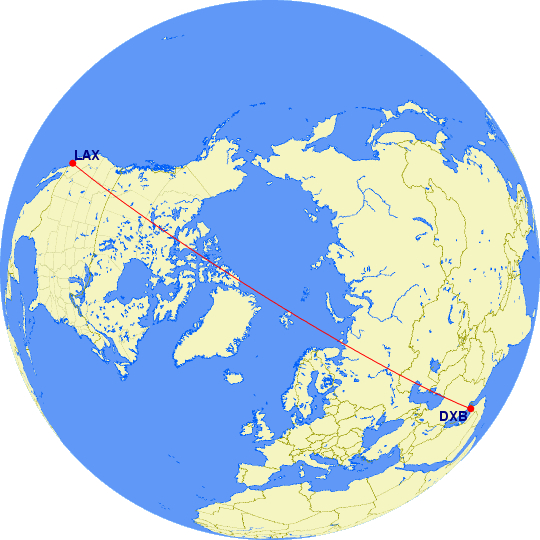 Here you can see that on a globe the polar route is the most direct route. The straight east route is actually much longer.