An AirAsia X A330-300 flight from Sydney to Kuala Lumpur has made an emergency landing at Melbourne Airport after the plane suffered a technical issue.
A spokesperson for Melbourne Airport said the pilot of AirAsia X flight 223 contacted air traffic control to advise a 'precautionary local standby'.
Online flight radars showed the aircraft's flight path leaving Sydney airspace and heading roughly north-west towards Kuala Lumpur before making a diversion to the south.
The aircraft also appears to have performed a 'go around' at Melbourne Airport, cancelling an initial landing attempt at the last moment.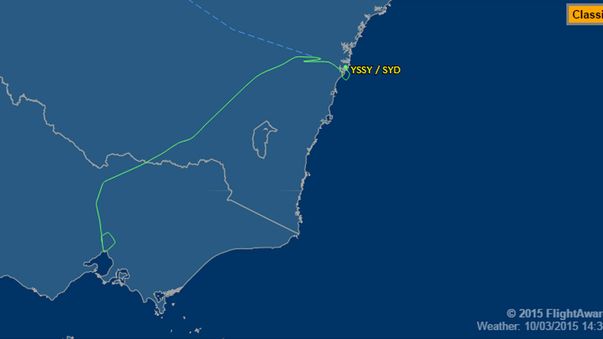 Online flight radars show the aircraft diverting to the south en-route to Kuala Lumpur. (FlightAware)
The plane then circled around for another attempt, which was successful and landed at 2pm (AEDT). The plane's navigation system and map display were malfunctioning according to the Civil Aviation and Safety Authority. The pilot is believed to have turned back to Melbourne as the weather was more favourable than Sydney.