One pilot has died while the rescue mission is currently underway for the other pilot after their two Taiwan Air Force F-5E fighter jets collided and crashed into the ocean.
On Monday afternoon (March 22), two F-5E fighter jets are believed to have collided and crashed into the ocean off the coast of Pingtung County (37.5 nautical miles southeast of their base), according to the National Rescue Command Center (NRCC). The Ministry of National Defense (MND) has deployed search and rescue Black Hawk helicopters and maritime patrol boats to the scene, while firefighters from Taitung and Pingtung have been dispatched as well to carry out a search onshore.
At 2:30 p.m., four F-5E fighter jets took off from Taitung's Zhi-Hang Air Base on a training mission, according to the MND. However, at 3:06 p.m., two of the jets collided, but the two pilots, surnamed Pan (潘) and Lo (羅), reportedly were able to eject before their aircraft crashed into the sea.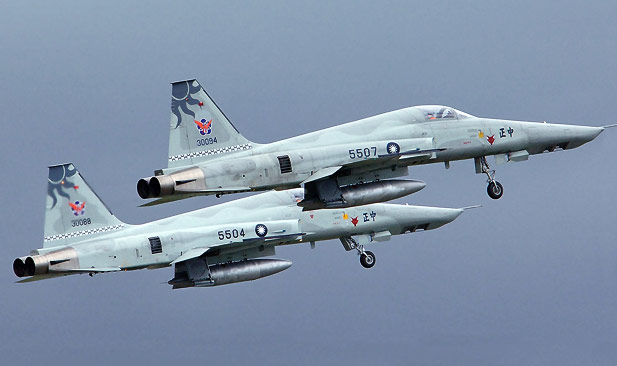 The NRCC at 3:22 then dispatched the search and rescue aircraft and ships to the scene. The search zone is 1.4 miles offshore from the Xuhai Fishing Harbor in Pingtung County's Mudan Township.
At 4:14, police found an ejection seat and parachute at the 73-kilometer mark of Provincial Highway 26, but no pilot was found nearby. At 4:22 p.m., Lo was found in the sea with vital signs, but unconscious. He was transferred to the Taitung Mackay Memorial Hospital for emergency treatment, though doctors were unable to resuscitate him, and he was pronounced dead.
Pan is still missing, and the search for him is still ongoing.