Flight to Zurich was forced to return to Heathrow due to 'the dirty socks smell in the cockpit'.
On November 7, 2021 flight #LX339 took off from Heathrow to Zurich but turned around before reaching the channel.
The CS100 (reg. HB-JBD) landed runway 27R at 21.15LT, about 30 minutes after departure.
ALERT Swiss #LX339 just returned to Heathrow due to a possible medical emergency https://t.co/6jgc4tO4FR pic.twitter.com/3ImeKb3YRS

— AIRLIVE (@airlivenet) November 7, 2021
As flight #LX339 a passenger asking for compensation regarding European regulation EC261/2004, the airline refused it telling that "the aircraft scheduled to operate the rotation was forced to return back to London due to dirty socks smell in the cockpit".
AIRLIVE TV
Swiss Air Lines considers it as a 'cancellation necessary and the irregularity to be extraordinary circumstances'.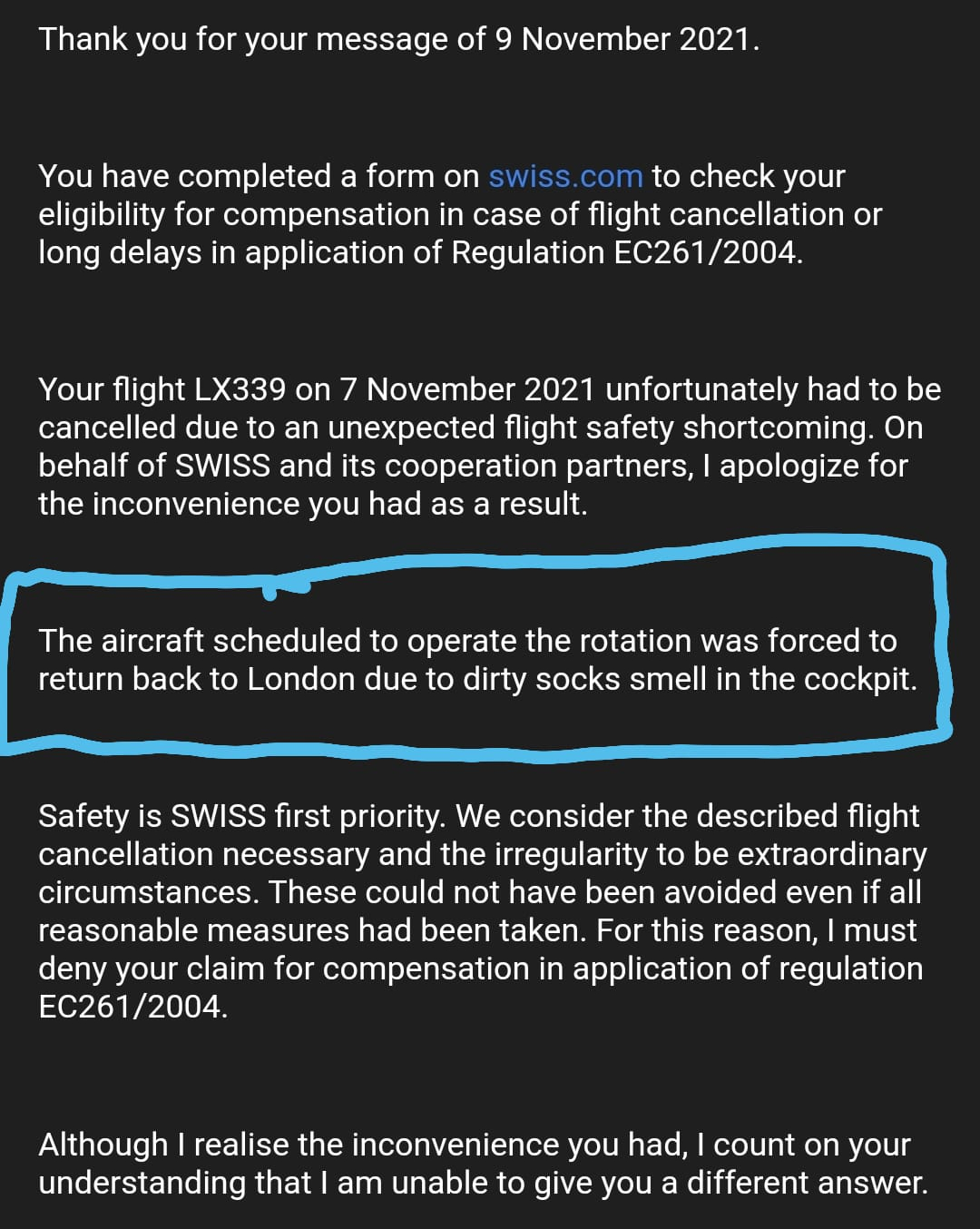 The EU regulation is in place to protect passengers against the inconvenience caused by long waiting times or flight cancellations, which the airline had the power to prevent. This is the ruling as stated in full: "Regulation (EC) No 261/2004 of the European Parliament and of the Council of 11 February 2004 establishing common rules on compensation and assistance to passengers in the event of denied boarding and of cancellation or long delay of flights." The regulation provides passengers with protection against travel disruption, and also serves as an incentive for the airlines to maintain a more punctual operation. These rights also apply for passengers travelling on a package holiday.
The EU regulation 261/2004 is concerned with the following:
It is intended for passengers who suffer delayed or cancelled flights, overbooking or denied boarding.
Depending on the circumstances, and subject to certain conditions, it may give rise to a claim for compensation of between €250 and €600 per person.
It provides assistance and access to basic services in the event of flights cancelled or delayed for several hours.
It offers the right to request a seat on another flight or to withdraw from the scheduled flight if it is cancelled or delayed by more than 5 hours.
It obliges airlines to inform their passengers of flight delays and cancellations and their rights.