The National Transportation Safety Board issued an investigative update for its ongoing investigation of Saturday's engine event on a Boeing 777-200.
United flight 328 experienced a right engine failure shortly after takeoff from Denver International Airport. The airplane returned safely to Denver; none of the 229 passengers or 10 crewmembers were injured. The flight's destination was Honolulu, Hawaii.
The information in this update is preliminary and subject to change as the NTSB's investigation progresses. As such, no conclusions about how the incident happened should be drawn from the information contained within the investigative update.
Shortly after the NTSB was notified of the event, a senior NTSB investigator who lives in the Denver area began working with local law enforcement officials to coordinate the recovery of the components that separated from the engine, many of which landed in residential areas.  Three other investigators from the NTSB's Denver regional office are assisting.
The NTSB investigator-in-charge for this event along with a powerplant specialist traveled from Washington to Denver Sunday morning.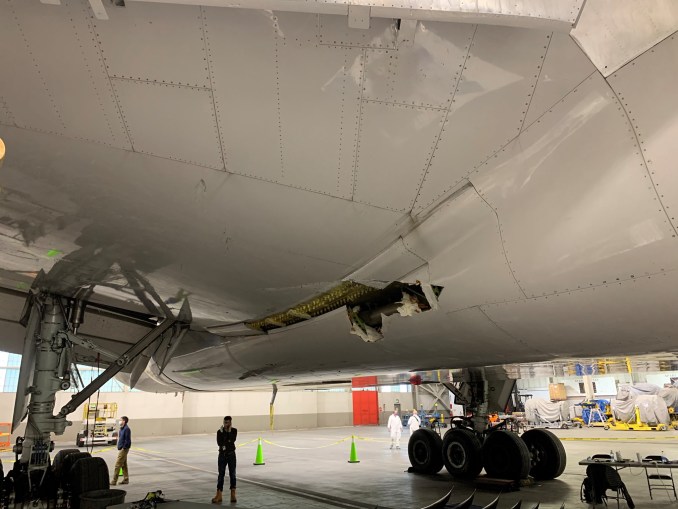 The initial examination of the airplane indicated most of the damage was confined to the number 2 engine; the airplane sustained minor damage. The examination and documentation of the airplane is ongoing.
The initial examination of the Pratt & Whitney PW4077 engine revealed:
The inlet and cowling separated from the engine
Two fan blades were fractured

One fan blade was fractured near the root
An adjacent fan blade was fractured about mid-span
A portion of one blade was imbedded in the containment ring
The remainder of the fan blades exhibited damage to the tips and leading edges
Investigators continue to examine the engine, airplane and the photographs and video taken by passengers aboard United flight 328.
The cockpit voice recorder and flight data recorder were transported to the NTSB laboratory in Washington where each will be downloaded and analyzed.
The following initial investigative groups have been established by the investigator-in-charge:
    Structures
    Powerplants
    Operations Factors
    Maintenance Records
    Flight Data Recorder
    Cockpit Voice Recorder
Parties to the investigation include the Federal Aviation Administration, United Airlines, Boeing, Pratt & Whitney, the Air Line Pilots Association, and the International Brotherhood of Teamsters.
Analysis of this event, along with conclusions and a determination of probable cause, will come at a later date when the final report on the investigation is completed.