Passengers on board a United Airlines commercial jet flying over Florida's Cape Canaveral were able to spot an amazingly rare sight.
Passengers of United Airlines spotted a SpaceX Falcon 9 rocket lifting off from NASA's Kennedy Space Center.
The video, shared by NBC photojournalist Nick Leimbach, shows the white rocket blasting off and gaining altitude at a dazzling rate, leaving behind a massive cloud of dust and vapor — an angle that puts the incredible spectacle into perspective.
One of the coolest things I've ever seen.

Aboard @United Airlines 220 flying over Cape Canaveral as a SpaceX Falcon 9 lifts off. pic.twitter.com/klSqmbfPHt

— Nick Leimbach (@nleimbach) November 26, 2022
"One of the coolest things I've ever seen," Leimbach wrote.
AIRLIVE TV
The flight took off from Dulles International airport in Washington, DC at 12:25 pm and landed roughly 3.5 hours later in George Town in the Cayman Islands.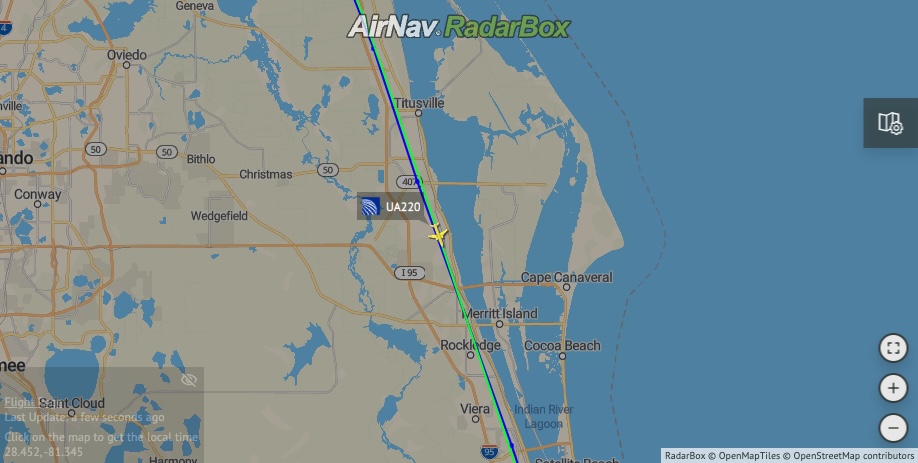 Its flight path perfectly crossed NASA's Kennedy Space Center, at just the right moment. SpaceX's Falcon 9 rocket took off from Launch Complex 39A at 2:20 pm local time, with an uncrewed Dragon spacecraft in tow, carrying supplies and equipment to the International Space Station.