Norwegian has submitted a formal complaint regarding unlawful differential treatment in favour of SAS to the European Commission and EFTA Surveillance Authority. The low-cost airline argues discriminatory conditions and liscencing practises prevent Norwegian from obtaining access to traffic rights on the same terms as SAS. In addition, the differential treatment generates significant additional costs for…
After the success of the KLM aircraft apartment competition, KLM and Airbnb have announced that they will be entering into a long-term partnership. To mark the start of the collaboration, KLM and Airbnb created a competition to win a stay in a KLM aircraft apartment at Amsterdam Airport Schiphol, with three lucky winners staying in…
Qatar Airways has continued its expansion into Africa with the launch of services to its twelfth new destination this year, the Eritrean capital Asmara. Launched on December 4th, the new route will provide passengers to and from Eritrea with two weekly flights connecting Asmara via Doha to more than 140 destinations around the world.
easyJet has launched the first direct service between Belfast and Reykjavik. The flight operates twice per week on Mondays and Fridays on a 156 seater Airbus A319 and is the only direct service between the two destinations.
Ryanair has extended its London Stansted summer 2015 schedule with a new route to Deauville in France which will operate twice weekly from 3rd April. This is in addition to 4 new summer 2015 routes to Ponta Delgada (Azores), Cologne, Glasgow and Edinburgh (over 130 in total) and increased flights on 24 existing routes to/from…
Emirates is planning to offer a double daily service to Barcelona. From 2nd May 2015 Emirates will add a further 3724 seats per week to Barcelona increasing overall capacity by 51 percent.
Officials in the UK government have launched in independent inquiry into the failure of air traffic control services in the south-east of England on Friday. National Air Traffic Services blamed a software glitch at its centre at Swanwick in Hampshire for the disruption, which delays at Heathrow and Gatwick.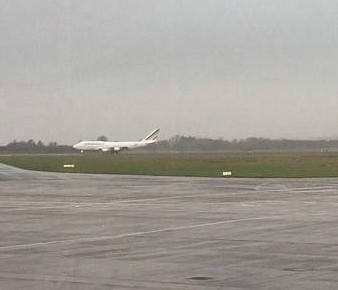 An Air France passenger jet was forced to make an emergency landing in Ireland after a shipment of peppers set off a fire alarm during its transatlantic journey. The Boeing 747-400 was flying from Santo Domingo in the Dominican Republic to Paris when its flight crew was alerted to a potential fire in the cargo…